Penelope II Pool Table with Dining Top (Size 7' or 8')
Product Description
The next generation of the best-selling Penelope, the Penelope II Billiard Table comes in 7 or 8-ft versions and three finish options; Silver Mist, Espresso and Cappuccino. The Penelope II combines the sleek, clean frame of the first-generation table with the raw look of our more rustic pool tables. The table features solid wood post legs, a thinner overall body and a new beveled exterior edge on the table and dining top instead of the straight edge from the original design. Includes a matching dining top, leather internal drop pockets, K66 cushion rubber for true rebound, and 1-inch backed K pattern slate for true roll. Cloth not included with table; purchase your choice of style and color separately.
Product Details:
Billiard table with 1-inch back K pattern slate
Solid oak body with wood post legs
7 foot Overall outside dimensions: 92" L x 52" W x 32" H
8 foot Overall outside dimensions: 101" L x 57" W x 32" H
Matching dining top included
Features leather internal drop pockets and K66 cushion rubber for the true rebound
Custom Felt Options
Billiard felt is optional, however, most of our customers choose to order pool table felt with their pool table so that everything arrives at once. We carry the industry standard Novalan Billiard cloth in 3 grades so that you can receive exactly what you would like no matter what range of price and quality you are looking to achieve.
There are 3 types of cloth to choose from. All cloth is teflon coated for a longer life and easy cleaning. The Leisure series is a 19oz cloth and is great for most of our customers playing recreationally, Premier is a grade higher and a thicker 22oz cloth which is preferred by commercial clients who's tables receive higher amounts of play and are looking for higher amounts of action or English. Our Eliminator series of cloth is 100% worsted wool and is the highest grade of billiard felt available for maximum playability and a truly premium look and feel. Eliminator is only available in tournament green, dark green and burgundy.
Optional Deluxe Billiard Accessory Kit Includes:
Hardwood 15-ball rack, 9-ball rack, 8-cue wall rack
Four two-piece 57" cues with nylon wrap in four colors
Two-piece bridge cue with aluminum bridge head
Table brush and rail brush
Cue tip repair kit, 8' clear pool table cover, 12 pieces of chalk, shaker bottle, tally balls and chalk holder
Billiard Rule Book
Deluxe pool ball set
Optional Deluxe Deluxe Wall Rack:
Measures 35.5-inches wide x 58-inches high x 4.5-inches deep
Solid wood deluxe wall cue rack
Holds 8 cues
Storage for a set of balls, triangle, and 9-ball rack
Cappuccino Finish
Cappuccino Finish
Cappuccino Finish
Cappuccino Finish
Cappuccino Finish
Silver Mist Finish
Silver Mist Finish
Silver Mist Finish
Silver Mist Finish
Silver Mist Finish
Whiskey Finish
Whiskey Finish
Whiskey Finish
Felt Options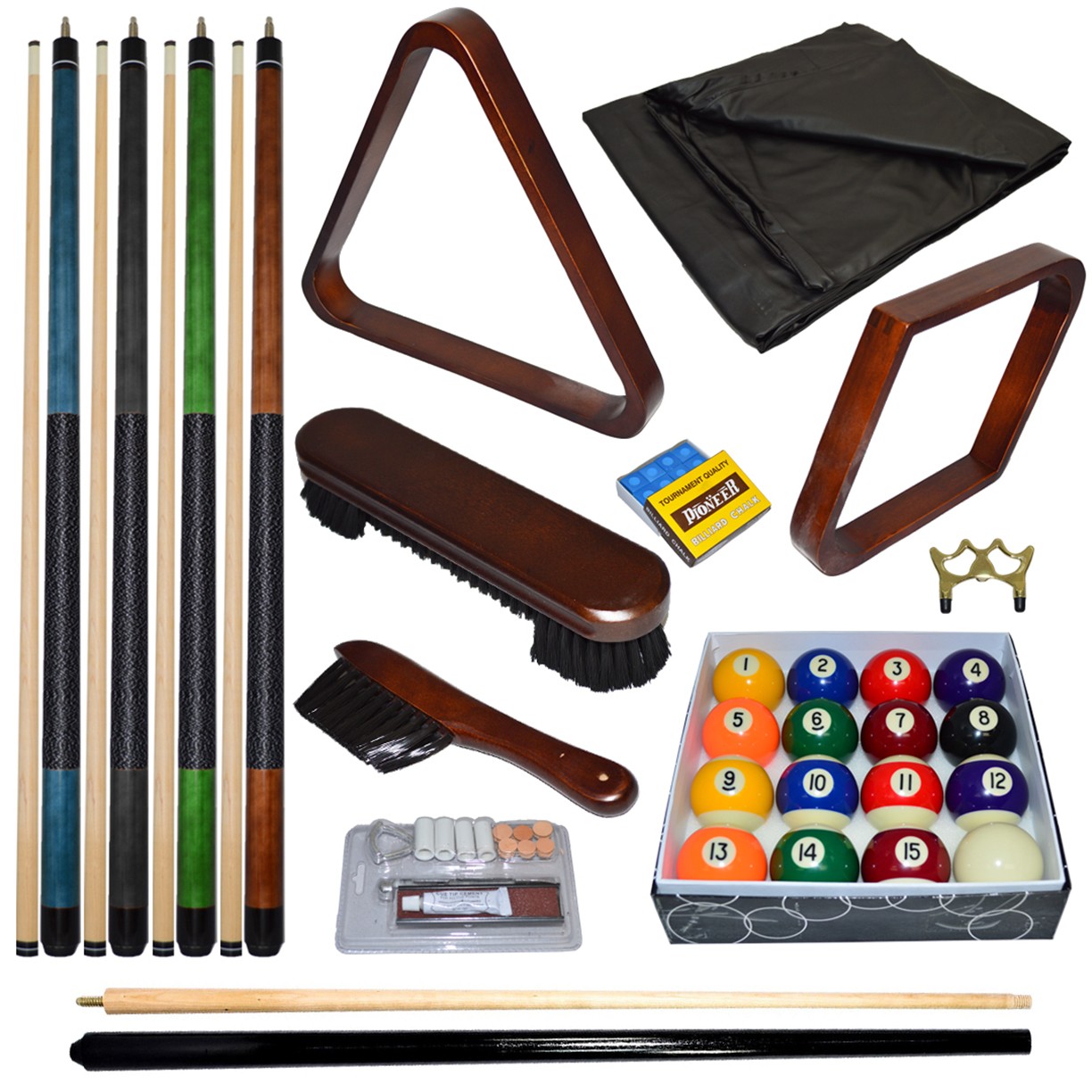 Antique Walnut
Product Q&A
Have a question? Need more information? Ask our staff.
Q
Who is the manufacture of the Peneople II pool table? What is threshold delivery?
A
Our Penelope II 7-ft With Dining Top, Cappuccino (Size 7' or 8') is manufactured by Imperial USA and is a very high quality table.

Threshold delivery is where the driver will deliver the pool table into your garage for you (no assembly).
There have been no reviews