Brazos River 3-in-1 Pedestal Table, Weathered Black
Product Description
The Brazos River 3-in-1 pedestal table is part of the Fairfield Collection of game tables by Playcraft. The Brazos trestle leg design and hand finishing is inspired by old world styling and craftsmanship. Finished in Weathered Black, it appears to have been reclaimed from a century old countryside barn. Whether enjoyed on its own or as a compliment to the popular Brazos pool table or shuffleboard table, the Brazos River 3-in-1 pedestal table is certain to make a statement.  More than just beautiful furniture, the high quality materials and construction will ensure many years of high quality game room fun. Please note that the base price only includes (1) Game Table. Please add the additional Chairs to customize this set to your liking.
A note about Playcraft weathered finishes
Weathered finishes are achieved by applying semi-transparent stains over a base color on natural wood to create an overtone color range. Finished wood that has naturally weathered outdoors will have varying degrees of intensity within the color range, however, no two boards will be the same. Grain density, direction and lighting will also be a factor on how color is viewed. This effect is by design and the images presented depict the overtone range for each weather color offered. The unique characteristics in grain patterns and color of natural wood, combined with the hand staining process, achieves the old weathered wood design concept of Playcraft weathered game tables. Color variations within an item and between items will exist and should be anticipated.
Features:
TABLE
Select hardwood construction finished in a distressed, Weathered Black
Trestle style leg compliments the Brazos River pool table and shuffleboard table
54" Diameter reversible top with 8 player positions includes synthetic leather easy slide center
Octagonal bumper pool with banker's gray wool blend cloth
Assembled dimensions: 54" diameter x 32" H
Playing equipment: ( 2 ) 48" cues, bumper pool ball set, chalk and brush
Weight: 185
Assembly required
Warranty: 1 year
OPTIONAL CHAIRS
Select hardwood construction finished in a distressed, weathered black
Black synthetic leather upholstered seat and back
Swivel and recline with lock
Gas piston seat height adjustment from 19 - 21 inches
19 inch wide seat bottom and 21 inch back height
5 casters
Weight: 28 lbs ea
Assembly required
Warranty: 1 year
Shipping Dimensions:
Pallet: 70"L x 66" W x 5" H 55 LBS
Box 1: 57" H x 57"W x 8"H 159 LBS
Box 2: 36"L x 18"W x 13"H 44 LBS
Bumper Pool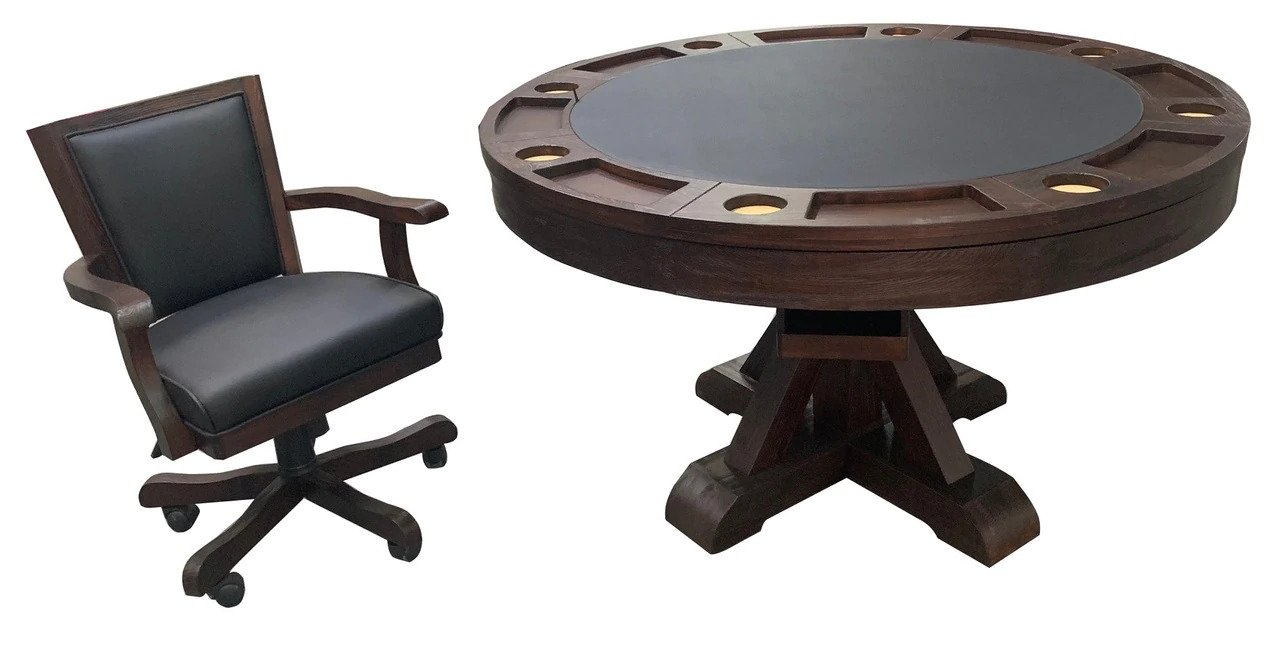 Product Q&A
Have a question about this product? Need more information? Ask our staff.
Q
Does this bumper pool have a slate top
A
The Brazos River 3-in-1 Pedestal Table, Weathered Black features a high density resin core material fused with solid hardwood for the playing surface.

It is not a slate top.
Q
If I choose to assemble myself, does the table come with directions ?
A
Yes, the table will include installation instructions which are very easy to follow, installation of the table should take an adult about an hour or less.
There have been no reviews